SPEAKERS
Speakers fill your home with music the way it was meant to be heard. Enjoy thrilling bass, rich silky midrange, and pristine highs with speakers from Bryston, Martin Logan, Focal, and many more!
Speakers can sometimes be a more challenging choice to consider, especially if you have limitations on issues such as size, placement, finish, etc. They can also be subjective. We can help you understand the different performance characteristics and how that relates to the way in which you experience music. We carry distinctive speaker brands that will connect with people in different ways. With discussion about your room, performance goals, and the rest of your system, we can help you narrow it down to a few good models to audition.

When selecting speakers, we encourage you to make your comparisons with a range of your favorite music.
Have a look at the pictures and logos listed below and you will know that you can find many of the best brands in the world.
Focal
Read more
Speakers
Focal
Focal has been designing, developing and manufacturing speaker drivers and loudspeakers for 40 years, and more recently headphones. Innovation, Tradition, Performance and Pleasure are our key values. Wherever you are, only one goal for Focal is to gather you around a common passion … the rich, faithful and pure sound … to Listen Beyond.
The speaker driver is what is at the core of Focal's DNA; it is what the historical root of their trade is built around: technology, mechanics, and sophisticated materials. Focal's history is written every day by people whose unique expertise pushes back the limits of sound reproduction. They are proud to have succeeded in keeping their own manufacturing facilities, which was the only feasible way for Focal to continue innovating and developing their expertise and technology. This has given them unique recognition, that of being awarded a Living Heritage Company label (Entreprise du Patrimoine Vivant).
Whether it is a loudspeaker, a studio monitor, or headphones, Focal only develop products that we are certain to become a reference in their category. All their products are designed and manufactured with the same quality standards, by the same teams of engineers and specialized operators in order to provide the best audio solutions, whatever the size or price, from entry-level products to luxury ranges. That is what makes their offer and their brand unique.
Innovation means pushing back the limits of the impossible. Innovation requires a certain frame of mind, the freedom to brave the extravagant, to dare the impossible. Utopia perfectly symbolizes this. Above all, it is a desire which has been part of Focal since day one, a desire driven by the passion for sound and all its delights. Today, innovation goes way beyond technology. It also involves aesthetics and usage. To achieve innovation without constraint, there was no other way for Focal than to master each and every process, including manufacturing.
That is the ultimate goal, Focal's quest: to offer you audio devices which bring you closer to artists and their intentions, their intimacy, with pure, faithful sound whose harmonic richness paves the way for listening pleasure. What is more, today, music follows you everywhere. From the recording studio to the living room, from your car to the street, and Focal wants to be the only ones taking care of reproducing your music for your greatest pleasure.
Martin Logan
Read more
Speakers
Martin Logan
Martin Logan builds electrostatic speakers. But, why create electrostatic speakers when conventional speakers are so much easier to design and build? This is a question that could only be asked by someone who has never been held spellbound listening to an electrostat.
Electrostatic speakers are uniquely capable of an extraordinary and compellingly realistic performance with unmatched clarity and three-dimensional sonic imaging (often referred to as "sound staging" by audiophiles). MartinLogan electrostatic panels have two basic elements: a thin, conductively coated diaphragm with a large surface area and two charged, perforated metal stators. The diaphragm is suspended between the stators. An amplifier's signal, when applied to the stators, creates a strong electrostatic field that moves the diaphragm back and forth, exciting the air and transmitting sound. While in theory all of this might sound relatively simple, in truth, there is an art and science to making this work practically, effortlessly, and reliably. This has been MartinLogan's great contribution—their quest for audio perfection.
At the heart of every MartinLogan electrostatic panel is our gossamer thin, ultra-low-mass, transparent diaphragm. When you consider that a transducer changes direction upwards of 40,000 times per second and during each change of direction it must overcome inertia, you will appreciate the advanced design and technology behind the MartinLogan diaphragm. The mass of much heavier tweeters and mid-range drivers (found in cone and dome based speakers) prevents even the finest traditional loudspeakers from reaching the levels of accuracy inherent in MartinLogan electro-stats. Driven by charged electrons and weighing less than the air it moves, this diaphragm is so responsive and free from the distortive effects of inertia that its movement is identical to the signal coming from the amplifier. With vanishingly low distortion, the MartinLogan electrostatic diaphragm precisely tracks the input signal, engages the air, and flawlessly transmits the audio signal to your ear.
Parts of a MartinLogan ESL Transducer
A) Plasma bonded diaphragm
B) ClearSpar™ spacers
C) MicroPerf stators
Electrostatic Forces at Work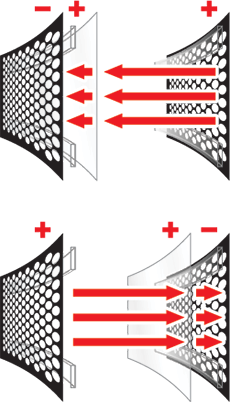 Opposite charges attract. Like charges repel. The diaphragm holds a constant positive charge.
Combining inspiration and innovative manufacturing techniques, MartinLogan created the original Curvilinear Line Source (CLS™) electrostatic panels. Overcoming a classic limitation of previous electrostatic designs, this breakthrough enabled MartinLogan to uniquely deliver optimal horizontal sound dispersion. The specific curvature allows for ideal dispersion in a home listening environment, taking the room out of the sonic equation.
The unique dispersion of CLS is a major contributor to MartinLogan's realistic sound, most often described as "sitting in a room with the musician." Since stators sandwich the thin ultra-light diaphragm, they must be perforated to allow sound to pass through, insulated for safety, and rigid enough to remain stationary as the strong electrostatic forces push and pull them. The latest generation MicroPerf stators, which we have continuously refined over the last 35 years, further maximize output and efficiency while diminishing panel size for an even cleaner aesthetic.
Electrostatic panels are secured to speaker cabinets using proprietary AirFrame™ technology. Manufactured from aerospace-grade billet and extruded aluminum alloy, AirFrames maximize panel rigidity and playable surface area while aiding in the optimization of crucial sound radiation patterns. The latest evolution of ClearSpar spacer technology enhances the transparent look of the electrostatic panels.
Electrostatic panels are perfect for reproducing sounds above 200 Hz. However, both the size and the power requirements of deep bass frequencies are best served by traditional cone woofers. As a result and with few exceptions, every MartinLogan electrostatic speaker is a hybrid design. Ideal crossover frequencies, phase and amplitude optimized Vojtko™ crossover networks, and critically damped woofers ensure a seamless transition between the two sound reproduction philosophies. The resulting speakers offer the best of both worlds.
Truth in Sound is much more than a catch phrase; it's MartinLogan's philosophy: MartinLogan speakers are designed to render the most complex musical passages as faithfully as a prism disperses the color spectrum.
Take a moment, sit down, listen to a MartinLogan speaker, and forever change the way you listen. Truth in sound will do that.
Monitor Audio
Read more
Speakers
Monitor Audio
Monitor Audio Ltd is a British specialist in hi-fi loudspeaker design. For over 40 years they've been incorporating stereo and surround sound systems for ultra discreet high quality sound around the home.
Their success is not simply a matter of excellent sound quality, although expert listeners around the world will testify to that. It's more about how they deliver the sonic superlatives. By consistently refining and applying their technologies, Monitor Audio has become one of the world's foremost experts in developing metal dome drivers. Metal is not the easiest material to shape, but it does have amazing properties for a more life-like sound reproduction when treated correctly.
In the strength and depth of their ever-evolving product portfolio, Monitor Audio continues to demonstrate the power of a high quality, high performance loudspeaker brand that serves every application, taste and budget—and just about every possible desire.
Golden Ear Technology
Read more
Speakers
Golden Ear Technology
The Triton Series Tower Speakers are high-performance loudspeakersand are engineered for superb performance in both high quality two channel stereo systems as well as in multi-channel home theater and music systems. Their sleek, elegantly curved and tapered design is not only gorgeous but is important from a performance perspective as well. Performance-wise, the Triton Towers all deliver boxless three-dimensional imaging, which reviewers have hailed as "mystical", "magical" —and, best summed up by the dramatic, "had us believing that the entire surface of the front wall was covered with speakers". Likewise, the powerful, deep subwoofer bass blends perfectly with the silky smooth, utterly transparent midrange and high frequencies, putting many dramatically more expensive speakers to shame.
The BRXbookshelf speakers are exceptionally compact, ultra-high-performance speakers that were originally developed for use as nearfield monitors in professional mixing applications. The design goal was to produce modestly-sized shelf or stand-mountable bookshelf speakers that would achieve accurate high-definition sonic reproduction, with superb three-dimensional imaging, comparable to that achieved by GoldenEar's award-winning Triton Towers. The new BRX was specifically developed incorporating technology developed for the Triton Reference in order to achieve reference level performance. Although they don't have quite the awe-inspiring bass of the floor-standing Tritons, great care has been taken, and extensive technology has been incorporated, to ensure that the BRX can deliver a remarkably satisfying full range listening experience without the need for a separate subwoofer.