SPEAKERS
Speakers fill your home with music the way it was meant to be heard. Enjoy thrilling bass, rich silky midrange, and pristine highs with speakers from Bryston, Martin Logan, Focal, and many more!
Speakers can sometimes be a more challenging choice to consider, especially if you have limitations on issues such as size, placement, finish, etc. They can also be subjective. We can help you understand the different performance characteristics and how that relates to the way in which you experience music. We carry distinctive speaker brands that will connect with people in different ways. With discussion about your room, performance goals, and the rest of your system, we can help you narrow it down to a few good models to audition.

When selecting speakers, we encourage you to make your comparisons with a range of your favorite music.
Have a look at the pictures and logos listed below and you will know that you can find many of the best brands in the world.
Focal
Read more
Speakers
Focal
Focal has been designing, developing and manufacturing speaker drivers and loudspeakers for 40 years, and more recently headphones. Innovation, Tradition, Performance and Pleasure are our key values. Wherever you are, only one goal for Focal is to gather you around a common passion … the rich, faithful and pure sound … to Listen Beyond.
The speaker driver is what is at the core of Focal's DNA; it is what the historical root of their trade is built around: technology, mechanics, and sophisticated materials. Focal's history is written every day by people whose unique expertise pushes back the limits of sound reproduction. They are proud to have succeeded in keeping their own manufacturing facilities, which was the only feasible way for Focal to continue innovating and developing their expertise and technology. This has given them unique recognition, that of being awarded a Living Heritage Company label (Entreprise du Patrimoine Vivant).
Whether it is a loudspeaker, a studio monitor, or headphones, Focal only develop products that we are certain to become a reference in their category. All their products are designed and manufactured with the same quality standards, by the same teams of engineers and specialized operators in order to provide the best audio solutions, whatever the size or price, from entry-level products to luxury ranges. That is what makes their offer and their brand unique.
Innovation means pushing back the limits of the impossible. Innovation requires a certain frame of mind, the freedom to brave the extravagant, to dare the impossible. Utopia perfectly symbolizes this. Above all, it is a desire which has been part of Focal since day one, a desire driven by the passion for sound and all its delights. Today, innovation goes way beyond technology. It also involves aesthetics and usage. To achieve innovation without constraint, there was no other way for Focal than to master each and every process, including manufacturing.
That is the ultimate goal, Focal's quest: to offer you audio devices which bring you closer to artists and their intentions, their intimacy, with pure, faithful sound whose harmonic richness paves the way for listening pleasure. What is more, today, music follows you everywhere. From the recording studio to the living room, from your car to the street, and Focal wants to be the only ones taking care of reproducing your music for your greatest pleasure.
Martin Logan
Read more
Speakers
Martin Logan
Martin Logan builds electrostatic speakers. But, why create electrostatic speakers when conventional speakers are so much easier to design and build? This is a question that could only be asked by someone who has never been held spellbound listening to an electrostat.
Electrostatic speakers are uniquely capable of an extraordinary and compellingly realistic performance with unmatched clarity and three-dimensional sonic imaging (often referred to as "sound staging" by audiophiles). MartinLogan electrostatic panels have two basic elements: a thin, conductively coated diaphragm with a large surface area and two charged, perforated metal stators. The diaphragm is suspended between the stators. An amplifier's signal, when applied to the stators, creates a strong electrostatic field that moves the diaphragm back and forth, exciting the air and transmitting sound. While in theory all of this might sound relatively simple, in truth, there is an art and science to making this work practically, effortlessly, and reliably. This has been MartinLogan's great contribution—their quest for audio perfection.
At the heart of every MartinLogan electrostatic panel is our gossamer thin, ultra-low-mass, transparent diaphragm. When you consider that a transducer changes direction upwards of 40,000 times per second and during each change of direction it must overcome inertia, you will appreciate the advanced design and technology behind the MartinLogan diaphragm. The mass of much heavier tweeters and mid-range drivers (found in cone and dome based speakers) prevents even the finest traditional loudspeakers from reaching the levels of accuracy inherent in MartinLogan electro-stats. Driven by charged electrons and weighing less than the air it moves, this diaphragm is so responsive and free from the distortive effects of inertia that its movement is identical to the signal coming from the amplifier. With vanishingly low distortion, the MartinLogan electrostatic diaphragm precisely tracks the input signal, engages the air, and flawlessly transmits the audio signal to your ear.
Parts of a MartinLogan ESL Transducer
A) Plasma bonded diaphragm
B) ClearSpar™ spacers
C) MicroPerf stators
Electrostatic Forces at Work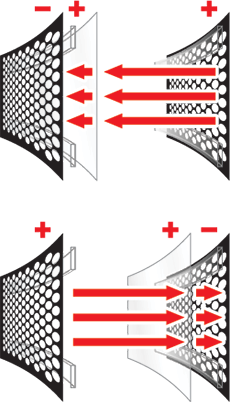 Opposite charges attract. Like charges repel. The diaphragm holds a constant positive charge.
Combining inspiration and innovative manufacturing techniques, MartinLogan created the original Curvilinear Line Source (CLS™) electrostatic panels. Overcoming a classic limitation of previous electrostatic designs, this breakthrough enabled MartinLogan to uniquely deliver optimal horizontal sound dispersion. The specific curvature allows for ideal dispersion in a home listening environment, taking the room out of the sonic equation.
The unique dispersion of CLS is a major contributor to MartinLogan's realistic sound, most often described as "sitting in a room with the musician." Since stators sandwich the thin ultra-light diaphragm, they must be perforated to allow sound to pass through, insulated for safety, and rigid enough to remain stationary as the strong electrostatic forces push and pull them. The latest generation MicroPerf stators, which we have continuously refined over the last 35 years, further maximize output and efficiency while diminishing panel size for an even cleaner aesthetic.
Electrostatic panels are secured to speaker cabinets using proprietary AirFrame™ technology. Manufactured from aerospace-grade billet and extruded aluminum alloy, AirFrames maximize panel rigidity and playable surface area while aiding in the optimization of crucial sound radiation patterns. The latest evolution of ClearSpar spacer technology enhances the transparent look of the electrostatic panels.
Electrostatic panels are perfect for reproducing sounds above 200 Hz. However, both the size and the power requirements of deep bass frequencies are best served by traditional cone woofers. As a result and with few exceptions, every MartinLogan electrostatic speaker is a hybrid design. Ideal crossover frequencies, phase and amplitude optimized Vojtko™ crossover networks, and critically damped woofers ensure a seamless transition between the two sound reproduction philosophies. The resulting speakers offer the best of both worlds.
Truth in Sound is much more than a catch phrase; it's MartinLogan's philosophy: MartinLogan speakers are designed to render the most complex musical passages as faithfully as a prism disperses the color spectrum.
Take a moment, sit down, listen to a MartinLogan speaker, and forever change the way you listen. Truth in sound will do that.
Dali
Read more
Speakers
Dali
DALI, Danish Audiophile Loudspeaker Industries, grew out of Scandinavia's leading audio retail chain in 1983, based on the observation that people often wanted a combinations of size, shape, performance, and price that existing brands could not offer. They made a commitment to create loudspeakers with outstanding performance and natural sound at competitive prices.
Brimming with confidence and inspired by a firm belief that it would be possible to create a unique DALI sonic identity that focused on musical realism and sound integrity, they set out to redefine the reproduction of sound.
Now, with more than 35 years of experience and global recognition, they can proudly say they've taken a stance on sound that has advanced the state of the art, inspiring music and cinema lovers, and challenging the competition to catch up.
Today, DALI offers an exciting range of speakers to suit every taste from the cost-conscious SPEKTOR series to the high-performance speaker EPICON 8. With more than one million satisfied DALI owners in more than 70 countries, they bring music and film to life at home, giving proud DALI owners a more honest, nuanced, and richly detailed listening experience.
DALI speakers are characterized by sublime quality and an engaging sound experience across a wide area in any room.
A key contributing factor to DALI's sound is exclusive DALI driver units designed and developed from scratch by their Danish engineers and produced in their own controlled facilities. With their unique driver technologies they are able to design and build speaker systems that makes it possible for listeners to hear their favorite music exactly as the artists intended. It gives great satisfaction to breathe life into recorded music and create a credible illusion of being there in tribute to the performers and out of respect for the audience.
However, creating that great authentic DALI sound demands so much more than a passion for music. Constant research in the acoustic sciences, development of new technologies, and empowerment of their employees as well as monitoring customer feedback is their recipe. Their commitment to excellence and honest reproduction shines through in every DALI loudspeaker.
At Dali it's all about the Admiration of Music.
Have a look at the links below to discover some of the specifics from each manufacture. Each one has a lot to offer.
Subwoofers
Read more
Speakers
Subwoofers
Let me take a moment to talk about Martin Logan subwoofers.
Chances are you've read or heard at some time that adding a subwoofer to a system built around electrostatic speakers is nearly impossible. Although that's not necessarily true (and we have the subwoofers to prove it), the idea is grounded in experience. For many years, subwoofers and electrostats did not blend very well. Turn on the sub and maybe you got the deeper, stronger bass you were looking for but that wonderful electrostatic snap and midrange clarity were, if not gone, now smeared and disconnected.
Martin Logan's goal, when they began the first subwoofer project, was to deliver the good stuff—deep, tight, powerful bass—and none of the bad. They wanted to build subwoofers that, when combined with ultra-fast electrostatics or conventional cone speakers, would blend seamlessly to the very bottom of the frequency extreme. BalancedForce subwoofers are the full realization of years of engineering by the MartinLogan team combined with the latest innovations in advanced digital signal processing, amplification, electrical system designs, and room correction.
Dual low-distortion woofers pair a high-power magnet structure with 10- and 12-inch aluminum cone diaphragms to deliver huge excursion and sound output while preserving minute bass details, all without a hint of distortion. The cone material's exceptional damping properties ensure the smooth, non-resonant response necessary for seamless blending with high-resolution full-range loudspeakers.
These woofers, spaced 180 degrees apart in a "BalancedForce" configuration, operate in exact opposition, to nullify distortion causing cabinet vibrations and deliver pure bass energy. Traditional subwoofer enclosures suffer from an equal and opposite reaction to the cone's movement, generating acoustic vibrations within the cabinet. You feel this by touching the cabinet. Although the physics of this phenomenon actually cause a subwoofer cabinet to resonate or even dance, most subwoofer designers apply weight or mass to the cabinet to minimize such disturbances, but still leave one byproduct—"smeared bass." BalancedForce is an elegantly simple solution that removes the variable of cabinet vibration contributions from the acoustic equation.
BalancedForce subs match powerful proprietary switching amps with incredible woofer drivers resulting in tightly defined bass while keeping distortion at the lowest possible levels. The BalancedForce 210 features an 850-watt class-D switching amplifier capable of a 1700-watt peak operating at over 90% efficiency. BalancedForce 212 features dual 850-watt amplifiers (one for each woofer) with a total system power of 1700-watts (3400-watts system peak).
Low-noise, high-power transformers, and switching power supplies feature high-quality MOSFET transistors, noise-suppression networks, and control circuitry to provide tremendous levels of current with extremely low levels of distortion. Split power supply rails minimize distortion while maximizing switching efficiency. Military grade glass epoxy circuit boards, temperature sensors, and protection circuitry guarantee quality sound and reliable trouble-free operation.
Although correct placement plays a key role in optimizing subwoofer performance, positioning a subwoofer often requires compromises. The optional MartinLogan Perfect Bass Kit (PBK) uses a computer and microphone to listen throughout the listening environment and tailor the sub's performance to the unique acoustic properties of a room—resulting in clean, powerful bass down to the lowest frequencies.
Top mounted controls are discretely hidden beneath a smoked glass accent panel allowing easy access to fine tune the subwoofer's settings.
Access the top mounted control panel by pushing firmly on the smoked glass panel. You'll find all of your standard subwoofer controls like Level, Low-Pass Filter and Phase, plus some that are unique to MartinLogan.